Customer Q&A: Atlantic Wind Transfers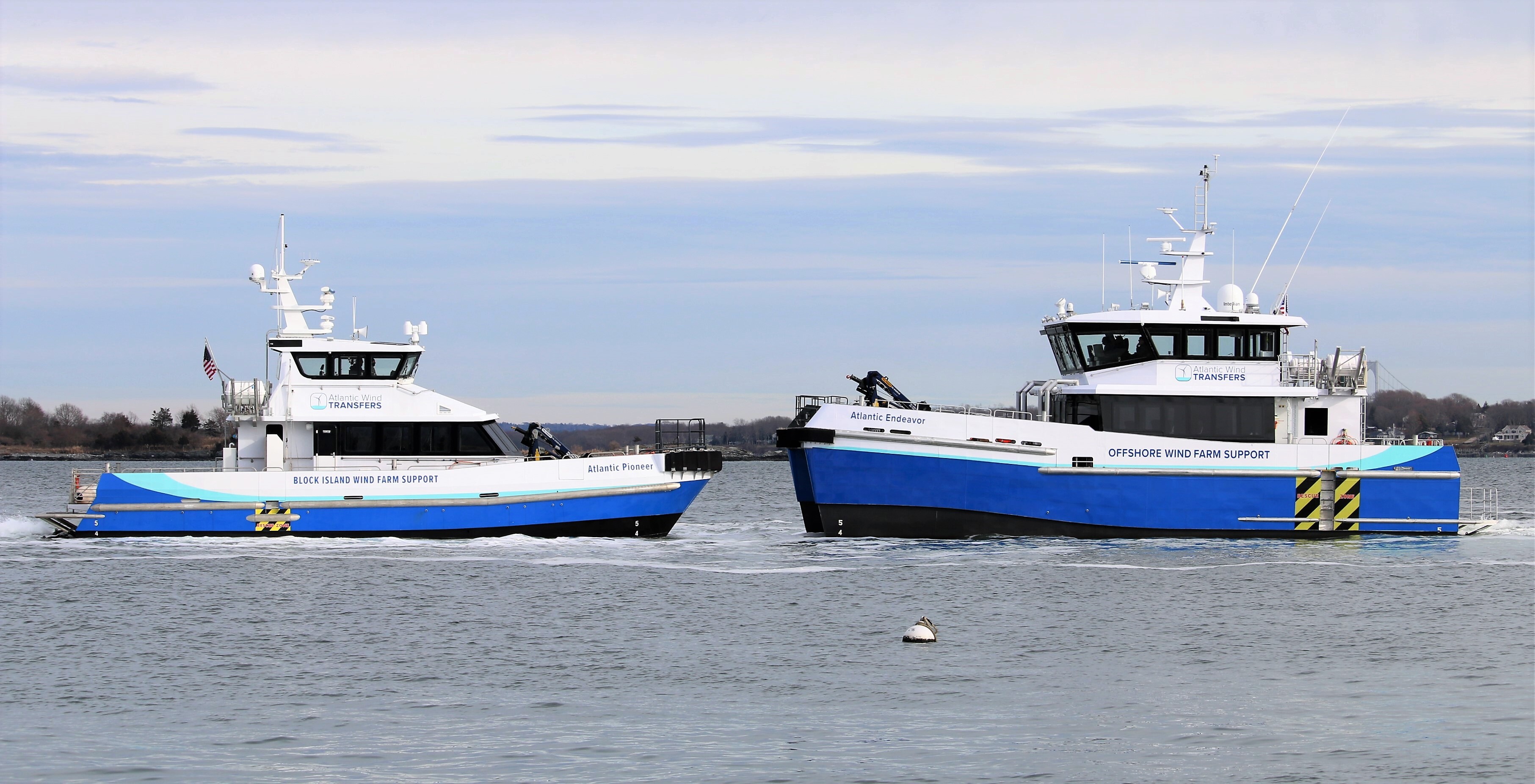 Tell us about your business and how you use CrewSmart in your operations
We are the first US offshore wind support organisation, providing crew and cargo transfer services for installation and long-term operations and maintenance for the United States' emerging offshore wind sector. We aim to provide the most reliable purpose-built offshore wind service vessels for the U.S. market; we commissioned the first US built, Jones-Act Compliant crew transfer vessel (CTV), Atlantic Pioneer, after signing a contract with Deepwater Wind for long-term O&M for the Block Island Wind Farm - the first commercial offshore wind farm in North America.
CrewSmart has become integral to our management system. It gives us a means to move away from paper reporting and efficiently collect all information across our vessels and operations to compare against KPIs - freeing time and attention for our crews, and helping us to operate smartly and demonstrate value. CrewSmart was initially installed onto our newest boat, Atlantic Endeavour, with a view to rolling the system out to the Atlantic Pioneer, as well as our ferry fleet.
What is your mission as an organisation, and how does CrewSmart help you deliver this?
AWT is leading the charge in supplying compliant support vessels for the US' budding offshore wind sector, and we take this market position seriously. Our goal is to set the benchmark for the way vessels in the offshore support sector operate in the US, and CrewSmart is central to this endeavour. In adopting CrewSmart for our vessels, we are shaping the functionality of the system for others in the US market to follow suit, for the formation of an efficient and digitally-optimised OESV fleet.
How have your core markets evolved over the past five years?
The new administration has transformed the landscape of opportunity for offshore wind for the foreseeable future. The ambition to install 30GW of offshore wind capacity by 2030 is obviously an excellent move, but delivering such developments in this timeframe, and in a relatively embryonic market, may prove challenging. The story is quite different for a company like us, who've been operating in this space for more than five years. While other companies are working their way into this space, we are the only team in the US which has the experience to support the industry and guide its growth.
Existing expertise will be critical to keeping the US on its strict timeline of growth to 2030, and the abundance of experience from other markets has us optimistic. The acceleration of the offshore wind industry provides a good guiding framework for what it takes to establish a mature market, and we anticipate that the US' journey to 30GW will be much faster with all that existing expertise behind it. Equally, the US will no doubt develop its own methods, technologies, and processes, with potentially better results. We're excited to be involved in this process and see how it pans out.
What are the main challenges facing the build-out of the US offshore wind support sector, in your view?
One unique challenge for the US offshore support sector is that, due to the Jones Act, the US needs to build up its OESV fleet from scratch. This is good news for US shipyards, but as all offshore wind projects will require new boats to be built, a bottleneck in provision is inevitable – they can only build so many at a time. Also, US built vessels are not currently required to meet an ISO certification, so the standard, functionality, and technology on these first OESVs can be expected to vary. This creates an uneven testing ground for customers trying to better understand what they need their support vessels to deliver.
How did these market developments impact or influence your decision to integrate CrewSmart into your business?
Working with partners to learn from and build on expertise from mature offshore wind markets is important to us to deliver max value for the US market and propel its growth. We've been monitoring demand changes from Europe in particular, with a view to anticipating and delivering against the needs of US customers. Equally, as we move forwards in terms of digitalisation, we know our clients will want quick access to detailed information, and a transparent pipeline of shared data between our operations and their assets. CrewSmart allows us to frontload our fleet with this functionality for our customers, while also streamlining the overwhelming paperwork required from our crews.
The expert support and guidance offered to us by both CrewSmart, and UK-based OESV operator Seacat Services, has bolstered our ability to address these market challenges and guide our customers to commercial and operational success. As industry leaders in the offshore wind support space, their help has been invaluable in sharing best practice for integrating CrewSmart into our systems and operations.
How does CrewSmart help you navigate these emerging challenges and opportunities?
Compliance with future policies and regulations for US offshore support vessels is a primary concern for vessel operators. CrewSmart's ability to instantly collate and report on complex data streams, rather than trawling through logbooks and paperwork, allows us to identify areas for optimisation, anticipate potential policy changes, and helps us stay ahead of the curve. It enables us to demonstrate to our clients that we are operating at the front of the game. It also brings us closer to operating in line with the industry standards we expect to transition into the American market, such as ISO certification and other requirements around reporting.
Beyond the regulatory challenges, CrewSmart has been instrumental in improving our efficiency as an organisation and helps us be more operationally and commercially savvy. In streamlining our reporting and data analysis, our crews can spend let time trawling through paperwork and more time focused on site operations. Meanwhile instant access to organised data allows us to identify challenges and make improvements day-by-day, as opposed to weeks at a time. Our focus is able to remain on delivering value for our customers, which is a key priority for us at a time of such change for the US market.